LISTEN

PARTICIPATE

DONATE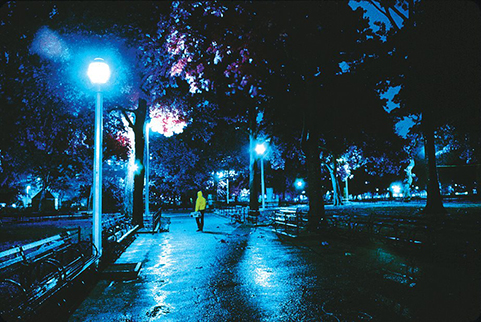 UNSILENT NIGHT
December 17, 2014
ARTxFM Studio
829 E. Market Street
6:30 PM

Unsilent Night is an original composition by Phil Kline, written specifically to be heard outdoors in the month of December. It takes the form of a street promenade in which the audience becomes the performer. Each participant gets one of four tracks of music in the form of a cassette, CD, or Mp3. Together all four tracks comprise Unsilent Night. The fact that the participants play different "parts" simultaneously helps create the special sound of the piece. Participants carry boomboxes, or anything that amplifies music, and simultaneously start playing the music. They then walk a carefully chosen route through their city's streets, creating a uniquemobile sound sculpture which is different from every listener's perspective.

INSTRUCTIONS & MORE INFORMATION AVAILABLE HERE



*********************





Rock N' Roll To Raise the Tower!
The Cure Lounge
Saturday 12.13.14
8 bucks @ 8 PM

Join ARTxFM for a Rock N' Roll Holiday Party on 12.13.14 for a rowdy night of music featuring The Ass Haulers, Blackfoot Gypsies, and the debut performance of Dubious/Obvious!!! There will also be a slew of ARTxFM DJs rocking the turntables all night long!!! The event cost $8. Proceeds benefit ARTxFM and will help raise the tower for WXOX 97.1 FM!






*******************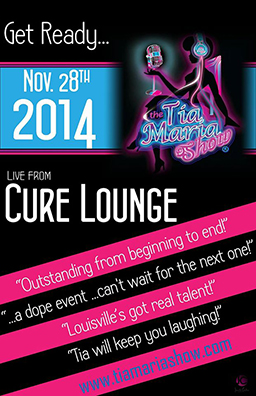 THE TIA MARIA SHOW LIVE
The Cure Lounge
Friday, November 28th
8 PM

Get ready for a fun night of live entertainment by Louisville's hottest artists, great food and drinks from Heineken to Hennessy and beautiful people! All under the same roof and for a good cause! Join us as we celebrate ARTxFM's addition to the FM dial and AMPED's fall session! Proceeds from this event will help to keep these awesome organizations on the up and up! Host, Tia Coatley, of The Tia Maria Show on ArtxFM Louisville, will be the M.C. for the evening. You don't want to miss this!

For the Mature Audiences Only. $7 cover, drink specials, full bar menu.

Tia Maria Show LIVE !!!


*******************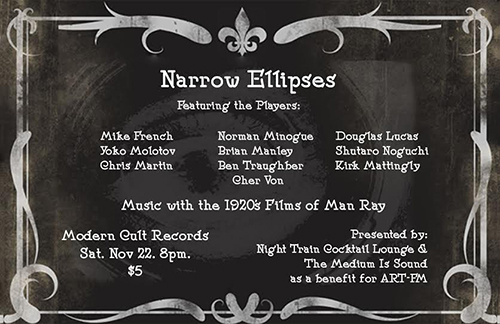 Narrow Ellipses: The 1920's Films of Man Ray
Modern Cult Records
Saturday, Nov. 22nd @ 8 PM
$5

Narrow Ellipses is a moving collective of musicians performing during manipulated projections of the 1920s films of Man Ray. Throughout the performance, the instrumentation and performers will consistently morph.

Players include: Cher Von, Kirk Mattingly, Ben Traughber, Chris Martin, Shutaro Noguchi, Yoko Molotov, Douglas Lucas, Norman Minogue, Mike French, Brian Manley

This performance is brought to you by the Night Train Cocktail Lounge and Indeterminate Transmissions / The Medium Is Sound on ARTxFM. It also serves as a fundraiser for the construction of the ARTxFM broadcast tower.

Preview by Jeffery Lee Puckett in the Courier-Journal on Nov. 20, 2014:
Narrow Ellipses Celebrates Dada Pioneer Man Ray



*******************






ReSurfaced
Main Street
Louisville
Friday, October 24th

It's the final weekend of ReSurfaced! If you haven't been, you MUST meet us this Friday on Oct. 24th from 6 – 11 PM to enjoy this inspiring urban renewal project that has thrilled our community and brought so many of our cities great artists together.

ReSurfaced is located on Main Street in the former Museum Plaza space. On Saturday from at 6 - 8:30 PM Walden Theatre will present Lenore and other writings from Edgar Allen Poe. The performance will followed by live bourbon jazz from Billy Goat Strut Review. Beer garden, food trucks, costume contest & more!!!

ARTxFM will be live broadcasting from the event!!! ... Please invite your far-away friends and families to tune in!






GARVIN GATE BLUES FESTIVAL
Garvin Place and Oak Street
Old Louisville
Friday, October 10th: 6 - 11 PM
Saturday, October 11th: 2 - 11 PM

ARTxFM will be broadcasting LIVE from the 2014 Garvin Gate Blues Festival. Garvin Gate is the largest free neighborhood street music festival in Louisville. It takes place the second full weekend in October in historic Old Louisville, one mile south of downtown. The festival attracts some of the best blues acts in the nation and always draws a very diverse crowd. This year's line-up includes Big Poppa Stample, Zakk Knight, daMudcats, The Stella Vees, Lamont Gillespie, Ten Foot Polecasts, and more! For the first time ever, ARTxFM is proud to bring the music of the Garvin Gate Blues Festival to listeners all around the world!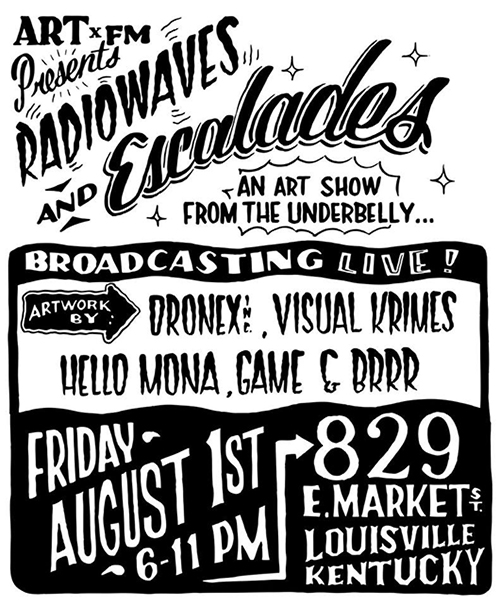 RADIOWAVES AND ESCALADES: AN ART SHOW FROM THE UNDERBELLY
ARTxFM Studio
829 E. Market Street
Louisville, Kentucky
August 1 - October 3, 2014
Open Daily 10 am - 7 pm

ARTxFM presents RADIOWAVES AND ESCALADES: AN ART SHOW FROM THE UNDERBELLY featuring the work of Brrr, Game, Hello Mona, Visual Krimes, and Dronex Inc.. Please join us for an artist reception at the ARTxFM Studio on August 1, 2014 during the First Friday Trolley Hop from 6 - 11 PM. ARTxFM DJs & Special Guests will be broadcasting live from the event. The exhibition runs through October 3, 2014 and the ARTxFM studio is open to the public daily from 9 AM to 7 PM. Other times and studio tours available upon request.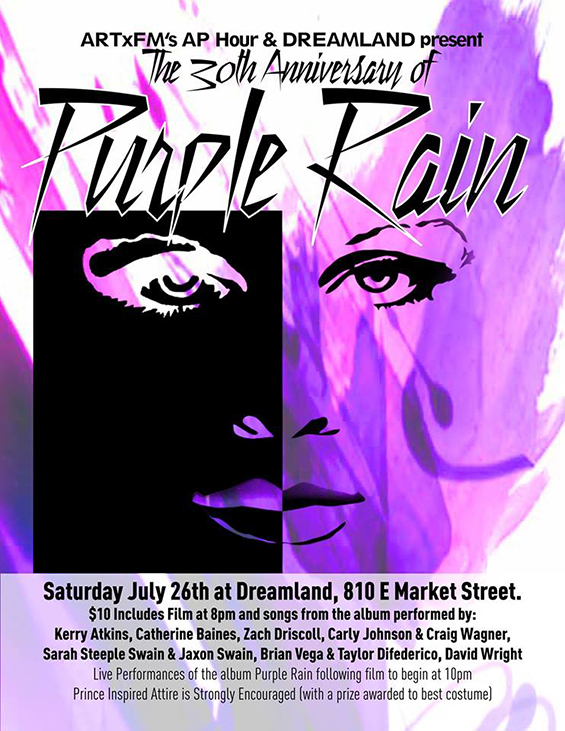 30th Anniversary of Purple Rain
Dreamland
810 E. Market Street
Louisville, Kentucky
Saturday, July 26, 2014
Doors @ 7 PM
$10 Cover

Join as ARTxFM's AP Hour and DREAMLAND celebrate the 30th Anniversary of Prince's debut film, "Purple Rain."

The film will be screened at 8 PM, followed by songs from the "Purple Rain" album performed by:

Kerry Atkins
Catherine Baines (Twin Sister Radio)
Zach Driscoll (Go Mordecai!)
Carly Johnson & Craig Wagner
Sarah Teeple Swain & Jaxon Swain (The Ladybirds)
Brian Vega & Taylor DiFrederico
David Wright (Twin Sister Radio)
and more!

Joe Dutkiewicz will be the evening's Master of Ceremonies.

Prince and "Purple Rain"-inspired attire is HIGHLY ENCOURAGED – the best costume of the evening will win a prize!

Proceeds will Benefit ARTxFM

******************************************************************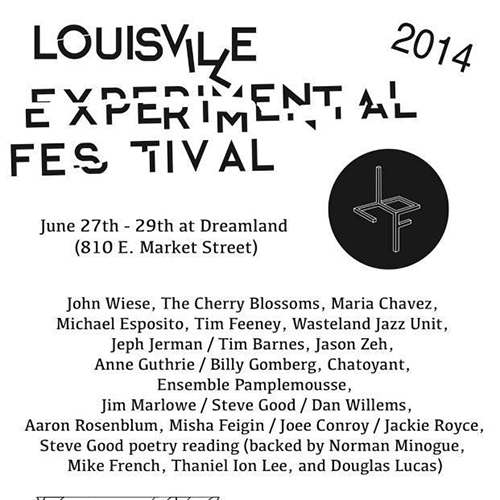 Louisville Experimental Festival
Dreamland
810 E. Market Street
Louisville, Kentucky
Saturday, June 14, 2014
7 PM - ?


Louisville Experimental Festival is an annual experimental music event in Louisville, Kentucky that presents a wide range of artists within experimental, improvisational, noise and related genres. ARTxFM will broadcast the following artists live from the 3-Day festival on Saturday, June 14th beginning at 7 PM.

John Wiese

Jeph Jerman / Tim Barnes

Billy Gomberg / Anne Guthrie

Wasteland Jazz Unit

Steve Good poetry reading
backed by Norman Minogue, Mike French, Thaniel Ion Lee, and Douglas Lucas

Learn more at www.louisvilleexperimentalfestival.com


******************************************************************


2014 ARTxFM Record Fair
Dreamland
810 E. Market Street
Louisville, Kentucky
Saturday, June 14, 2014
11 am - 4 pm






Come on down to dig-dig-dig for Records,Tapes & CDs, and SUPPORT your new favorite radio station ARTxFM! Record Vendors from all over the region will be there. Private collections unearthed for the first time!

$5 entry fee 11 am - 4 pm
$10 early bird entry fee 10 am - 11 am
All entry fees support ARTxFM

• Raffle give-a-ways • Local food Trucks • Live music and more . . .


******************************************************************


ARTxFM Stage
Old Louisville SpringFest
1st Street & Ormsby
Louisville, Kentucky
Friday, March 16 from 5 to 9 PM
Saturday March 17 from 12 - 9 PM


Join us at the ARTxFM SpringFest Stage in Old Louisville on May 16th and 17th for a showcase of some of the best music Louisville has to offer. This year's line-up includes a variety of genres including Jazz, Blues, Bluegrass, Rock-n-Roll, Latin Dance, Afrobeat, and more. In short, everyone will be dancing!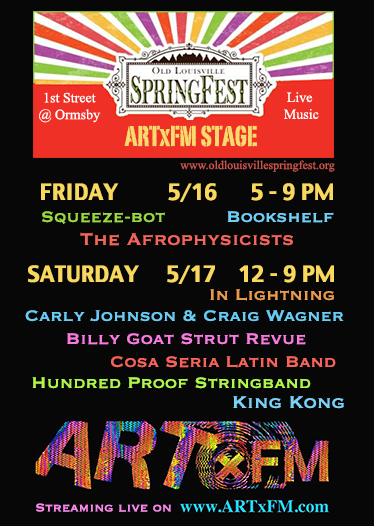 The Old Louisville Springfest is a FREE neighborhood event that will include over 100 artist booths, a kid's zone, and a beer garden. The festival takes place on the 1200 block of 1st Street near Ormsby.

ARTxFM will broadcast live music direct from the SpringFest Stage on Friday, May 16th from 5 - 9 PM and on Saturday, May 17th from 12 - 9 PM. It should be a lovely weekend and we are looking forward to seeing you there!

2014 ARTxFM SPRINGFEST STAGE SCHEDULE

FRIDAY, MAY 16
5:00 Squeeze-bot
6:00 Bookshelf
7:30 The Afrophysicists

SATURDAY, MAY 17
12:00 In Lightning
1:30 Carly Johnson & Craig Wagner
3:00 Billy Goat Strut Revue
4:30 Cosa Seria Latin Band
6:00 Hundred Proof Stringband
7:30 King Kong


*********************


REVEIL 24 HOUR BROADCAST
SoundCamp
WorldWide Broadcast
5 AM London time (UTC 0+1) on Saturday 3 MAY to 6 AM on Sunday 4th
MAy 3 - 4, 2014

REVEIL relays the sounds of live open microphones provided by streamers around the world. Starting on the morning of Saturday 3 MAY just before daybreak, London time (UTC +0+1), the reveil broadcast tracks the sunrise West, from microphone to microphone, following the wave of sound that loops the earth every 24 hours. Sounds are provided by the Locus Sonus network and elsewhere, together with a collection of live audio sources assembled for this broadcast. REVEIL is different from the vast majority of radio available online in that it is not primarily dedicated to music or talk, and none of it is pre recorded. Each sound is propagating live in real time somewhere

In addtion to streaming this interational audio event, ARTxFM provided a live microphone adding the sounds of daybreak in on Derby Day Louisville, Kentucky to the worldwide broadcast.


*********************


SLINT
Nelligan Hall
2010 Portland Ave
Louisville, Kentucky
April 15, 2014
8 PM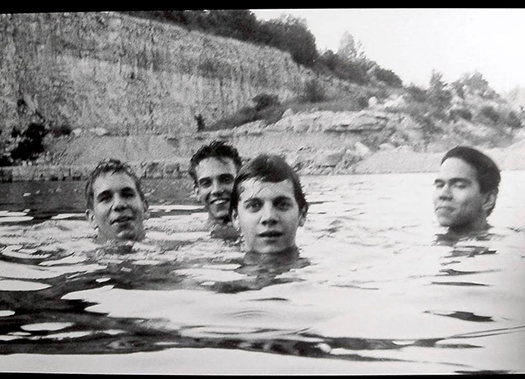 SLINT returns to Louisville on Tuesday, April 15, 2014 for a special performance at Nelligan Hall to celebrate the re-release of their seminal album Spiderland. While the intimate venue holds less than 200 people, ARTxFM has a special access pass that will allow this performance to be heard around the entire world.

The evening begins with an opening performance from Wishgift at 8 PM Eastern Daylight Time (U.S.). The stream is accessible through our website www.artxfm.com and free "ARTxFM" mobil apps. Fans are advised to stream in early as there is limited number of listener slots.

The line-up includes original members of SLINT - Britt Walford, Brian McMahan, and David Pajo - joined by musicians Christian Tonegawa and Matt Jencik. The performance is certain to be outstanding. No matter where you are in the world on Tuesday, April 15, you are invited to join ARTxFM direct from Nelligan Hall as Louisville bids SLINT a heroes' welcome home.



*********************


ARTxFM on KET's Louisville Life
Kentucky Educational Television
Louisville, Kentucky
April 2013




The next Louisville Life, hosted by Candyce Clifft, features the ARTxFM community-run radio station, filmmakers George and Kiley Parker, the CEO of Girl Scouts of Kentuckiana, and Old Bridge Inn in Jeffersonville, Ind. The program premieres Saturday, April 12 at 7:30 p.m. on KET.

ARTxFM is a community-run non-profit internet radio station that debuted at the 2012 Idea Festival. Its DJs and hosts, all volunteers from the Louisville community, are on a mission to amplify art in all forms. Broadcasting out of the NuLu district, ARTxFM is heard online in more than 150 countries, and the lineup is diverse, featuring Western Medieval classics, Japanese punk, international programs broadcast in Spanish and Russian, and much more.

Premire:
SATURDAY, APRIL 12 at 7:30 PM on KET

Additional airdates:
SUNDAY, APRIL 13 at 12:00 NOON on KET2
MONDAY, APRIL 14 at 7:30 AM on KET2
THURSDAY, APRIL 17 at 7:30 PM on KET2
THURSDAY NIGHT, APRIL 17 at 12:30 AM on KET
FRIDAY, APRIL 18 at 5:30 PM on KET2

*********************


ARTxFM 1st ANNIVERSARY CELEBRATION !!!
829 E. Market Street
Louisville, Kentucky
April 4, 2014
5 - 11 PM

On APRIL 4, 2014 ARTxFM will celebrate 365 days of continuous broadcasting! Our First Anniversary Festival will take place on from 5 – 11 PM EST at our studio in downtown Louisville during the First Friday Trolley Hop. ARTxFM is a community-based, non-profit radio station with a devoted team of managers and radio personalities who volunteer their time to make our broadcast possible. We are dedicated to our community and are planning an excellent event to bring everyone together in celebration of our first full year of 24 hour broadcasting.

The ARTxFM Anniversary Party will include live music, art exhibitions, studio tours, and a DJ showcase. Confirmed bands include: Mote, Bookshelf, Huh roBots, & Hundred Proof Stringband. The event will be broadcast to the world through live coverage on artxfm.com.

We invite you to join the staff and supporters of ARTxFM at our studio on April 4, 2014 as we commemorate this very significant occasion! If you cannot be there in person, we hope you will join the celebration by streaming in!!


*********************


SQUALLIS PUPPETEERS PUPPET PROM
School of the Sharks
1228 E. Breckinridge Street
Louisville, Kentucky
February 15th, 2014
6 - 11 PM

On Saturday, February 15th from 6 - 11 PM, ARTxFM will provide LIVE coverage of the SQUALLIS PUPPETTERS PUPPET PROM performance featuring & the music of SCOTT CARNEY (Wax Fang) and DJ's SAM SNEED & SAVANNAH BARRETT direct from the brand new School of the Sharks in Louisville, Kentucky.



*********************


FUND FOR THE ARTS SHOWCASE
LIVE from The Brown Theatre
315 W. Broadway
Louisville, Kentucky
January 28, 2014
12 Noon

The Arts Showcase and Campaign Kickoff is an annual celebration of the vibrant performing arts groups in Louisville, KY. Thrilling 1,400 people including more than 300 schoolchildren, the show also marks the beginning of the annual Fund for the Arts campaign. This one hour performance is an excellent sampling of local arts groups including the Louisville Opera, Louisville Orchestra, Actors Theatre, Walden Theatre, the Louisville Ballet, the Louisville Visual Art Association and more. Stream in or join us in person at the Brown Theatre at 315 W. Broadway at 12 noon on Tuesday January 28, 2014. The performance is complimentary and lunch will be provided!



*********************


ECHOS | stress.fm
What Does the Internet Sound Like ?
Lisbon, Portugal
November 29 - December 1, 2013


ARTxFM will participate in the 2013 stress.fm ECHOS project "What does the Intenet Sound Like?"

Computers talk to each other all the time, in code and in voltage, almost telepathically and at the speed of light. This is a conversation that excludes those of us unable to read between the lines or who are deaf to this soft music. To live in the world today is to be surrounded by a constant humming, the body electric, the senses extended and transformed by all that we own, all that we have built. We live inside the machines. What does it sound like? Stream in to stress.fm from November 29th - December 1st to find out!


*********************


C.H.I.M.E. Music Series
Junatia & Black Kasper
Nelligan Hall
2010 Portland Avenue
Louisville, Kentucky
Saturday, October 26, 2013
10 PM


Musical performances by local favorites Juanita and Black Kasper ; Visual Art Showcase featuring Patrick Thompson Vinnie Kochert, Ryan Case, & Rebecca Trigg; Haunted House & Halloween Costume Contest. Beverage proceeds at CHIME events will help to reinstate a historic non-profit organization called The North End Social Club. The Club's mission is to undertake and support various civic projects in the Portland neighborhood, such as murals, public art and social causes. Sponsored by ARTxFM.


*********************


MINI MAKER FAIRE
ARTxFM Pi Boxes
800 Block of Market Street
Louisville, Kentucky
Sept. 28th, 2013


During Maker Faire 2013 ARTxFM introduced a limited number of raspberry pi based devices that automatically connect via WiFi to the ART FM broadcast stream. The boxes are equipped with a standard 3.5mm audio jack which can be connected to a stereo. This is an "open source" project, and complete instructions and sample source code is available on github.


*********************



INCUBATE
Open Source Radio Project
Tilburg, Netherlands
Sept. 19 - 20th, 2013


ARTxFM is honored to participate in the Open Source Radio Project at the 2013 Incubate festival that takes place annually in Tilburg, Netherlands. L/O/U/I/S/V/I/L/L/E/ S/O/U/N/D/S - an audio production by ARTxFM - will be heard over the terrestrial airwaves in Tilburg on Sept. 19th and 20th and can be accessed world wide through the live stream on the INCUBATE website: http://incubate.org/


*********************


BONNIE "PRINCE" BILLY & DAWN McCARTHY
Network Center for Community Change Benefit Concert
The Kentucky Center, Bomhard Theatre
Louisville, Kentucky
Sunday, August 4th, 2013
7 PM


Bonnie "Prince" Billie and Dawn McCarthy bring their world tour to a close at the Bomhard Theater in Louisville on Sunday, August 4th at 7 PM. The show benefits the Network Center for Community Change - a community movement powered by over 5,000 members who live, work, worship and care about Louisville's urban neighborhoods. The Power Member All Star Revue opens.

Broadcasting Support Provided By WHY Louisville


*********************


ARTxFM DJ SHOWCASE
J.B. Speed Museum of Art
822 E. Market Street
Louisville, Kentucky
Friday, Aug 2, 2013
5 - 10 PM


ARTxFM DJs Tim Barnes, McKinley Moore, Evan Patterson, Kim Sorise, and Team Castetter spinin' vinyl LIVE from the Speed Musuem of Art!



*********************


RABBIT, RABBIT RADIO
Twenty First Century Fox, Merchant Marine, & Camera Lucida
Nelligan Hall
2010 Portland Avenue
Louisville, Kentucky
Tuesday, July 16th, 2013
8 PM


Carla Kihlstedt & Matthias Bossi of Sleepytime Gorilla Museum (among numerous other musical delights) bring you a new offering! Rabbit Rabbit Radio tickles your brain with mad and wonderful tones!


*********************


LOUISVILLE EXPERIMENTAL FESTIVAL
Jonathan Wood / Lowe Sutherland, Mike Shiflet,
Darin Gray / Raw Thug, and Aaron Dilloway
Dreamland Film Center
Louisville, Kentucky
Saturday, June 29th, 2013
8 PM


Louisville Experimental Festival is an experimental music event that occurs every summer for five consecutive nights at multiple venues in Louisville, Kentucky. LEF's extensive lineup presents a wide range of artists within experimental, noise, improvisational, and related genres.


*********************


METZ & YOUNG WIDOWS
Zanzabar
Louisville, Kentucky
Tuesday, May 14, 2013
9 PM



METZ is a grunge band on the SubPop Label and Young Widows is a noise-rock based in Louisville Kentucy. On Tuesday, May 14th, 2013 they met at the legendary Zanzabar.


*********************


BABY DEE & LITTLE ANNIE
Kentucky Museum of Art & Craft
715 W. Main Street
Louisville, Kentucky
March 14, 2013
8:00 - 10 PM


An avant-garde evening of costume and cabaret. Wear your abandoned prom/tux/bridesmaid attire and come for a performance like no other from the extravagant pianist Baby Dee and the balladic singer Little Annie.


*********************


NEPTUNE & THE JUNK YARD DOGS
Thunder Over Louisville
The Quonset Hut
Louisville, Kentucky
Saturday, April 20, 2013
7 PM


Neptune's origins trace to 1994 as a sculpture project by Boston artist/musician Jason Sanford, who forged the band's haphazard guitars and reluctant drums from scrap steel and found objects. Seven lineups, twenty-three releases and hundreds of instruments later, the band continues to wrench its sound spatter on self-built instruments to often confounded audiencesaround the world.



*********************


LOUISVILLE VOCAL PROJECT
w/ BELLARMINE UNIVERSITY SCHOLA
Wyatt Center, Bellarmine University
Louisville, Kentucky
Thursday, April 18, 2013
7:30 PM


Louisville Vocal Project (LVP) was founded in order to perform primarily a cappella music consisting of renaissance works, music of lesser-known composers, and newly composed music in the tradition of this original vocal canon. LVP is now an ensemble-in-residence at Bellarmine University and is tied through several of its members to the Bellarmine University Music Department. In Spring of 2011, the ensemble toured Italy in conjunction with the Bellarmine University Schola Cantorum, a new university performing group founded by LVP Artistic Director S. Timothy Glasscock, singing in such venues as The Basilica of Saint Francis in Assisi, the Church of St. Catherine of Sienna, The Church of Santa Maria Maggiore in Amalfi, the Church of St. Robert Bellarmine in Montepulciano, and culminating in singing a High Mass at St. Peter's Basilica in the Vatican.


*********************


MODS vs ROCKERS DJ BATTLE
Tim Faulkner Gallery
943 Franklin Street
Louisville, Kentucky
Saturday, April 13, 2013
10 PM

Rumblin all night! Ten of Louisville's finest vinyl deejays continue the legendary battle between the Mods and the Rockers! Happening late Saturday April 13th and going early into Sunday morning. On the Mod side spinning the finest in beat heavy Soul: Kim Sorise, Matt Anthony, Midnight Hour Soundsystem, Johnny Siegel (Junkyard Dogs), & DJ 7th Street (YLRS). On the turntables for the Rockers: Woodrow on the Radio, Jaxon Swain (Ladybirds), Blythe, Christy O'Connel (Junkyard Dogs) & The Big Mama Freak $5 Scooters and motorcycles are encouraged, parking will be provided. Pick a side, dress up and dance all night!!!!!! ARTxFM will be broadcasting the event LIVE



*********************


ARTxFM BLAST-OFF
ARTxFM Studio
829 E. Market Street
Louisville, Kentucky
5 - 11 PM

ARTxFM cordially invites you to join us FRIDAY, APRIL 5th in our NEW STUDIO located at 829 E. Market Street in Louisville, Kentucky to celebrate the launch of our regular programming schedule. DJs Allen White, Brian Manley, Clayton Ray, Evan Patterson, and Chad & April Castetter will be spinning records during the First Friday Trolley Hop from 5 - 11 PM. Sure to be a fun & historic event!



*********************


VALGEIR, NADIA SIROTA, & WILL OLDHAM
Kentucky Museum of Art & Craft
715 W. Main Street
Louisville, Kentucky
March 14, 2013
7:00 - 9:30 PM

ART+FM will proudly broadcast Valgeir Sigurðsson, Nina Sirota, and Special Guest Will Oldham live from the Kentucky Musuem of Art & Craft on Thursday, March 14th at 7 PM.

Valgeir Sigurðsson is a producer, composer, musician & engineer as well as the founder of the Bedroom Community label and Greenhouse Studios in Iceland. In music he is colliding organic with synthetic, acoustic with digital, connection with isolation, and domestic with ethereal – resulting in a body of work ripe with emotion, curiosity, and humanity. During this unique performance, Valgeir will be joined by Nadia Sorta, viola, and Will Oldham, vocals.


*********************


MATMOS, HORSE LORDS, & PARLOUR
Zanzabar
2100 S. Preston St.
Louisville, Kentucky

Live from Zanzabar, ARTxFM will broadcast MATMOS, HORSE LORDS, & PARLOUR on Saturday, March 2nd beginning at 8 PM.&nbsp Parlour is a groundbreaking musical group based in Louisville, KY that includes members of Crain, Cerebellum, Shedding, and Mr. Panic Button. Matmos and Horse Lords are Baltimore-based bands that combine electronic composition with live instrumentation and found object amplification.



*********************


MOUNTAINS
Kentucky Museum of Art & Craft
715 W. Main Street
Louisville, Kentucky

ARTxFM will proudly broadcast MOUNTAINS and SHEDDING live from the Kentucky Musuem of Art & Craft on Friday, March 1st from 7 - 9 PM.&nbsp Thrill Jockey Records writes, "Mountains' music is defined by slow builds, and subtle transformations, textures and melodic lines that evolve in a variety of ways to create grand soundscapes and acutely detailed compositions." For their newest release Centralia, "is an album that is as precise as it is boundless."



*********************


SQUALLIS PUPPETEERS PUPPET PROM
School of the Sharks
770 Eastern Parkway
Louisville, Kentucky
February 9th, 2013
6 - 11 PM

On Saturday, February 9th from 6 - 11 PM, ARTxFM will provide LIVE coverage of the SQUALLIS PUPPETTERS PUPPET PROM performance featuring DJ MATT ANTHONY & the music of LADY PYRAMID at The School of Sharks at 770 Eastern Parkway in Louisville, Kentucky.



*********************


BIG GIGANTIC
Headliners Music Hall
Louisville, Kentucky
February 5th, 2013
9 PM

ARTxFM will be broadcasting BIG GIGANTIC live from Headliners on Tuesday, February 5th, at 9:00 PM. Combining DJ elements with a live band, BIG GIGANTIC blends saxophone melodies and native beats with a hype electronic sound. Should be a wild!!! Join us at Headliners for the show or tune in through our website or new mobile apps.




*********************


PECHA KUCHA Vol. 10
Mayor's Gallery
Metro Hall
Louisville, Kentucky
February 5th, 2013 @ 8 PM

Pecha Kucha Night Louisville Vol 10 at Metro Hall, celebrating our future 20 slides at a time. Join us for a festive night with a great group of creative people sharing thought-provoking stories about our community through brief presentations in rapid succession. Alongside many local celebrities, ARTxFM President Sharon Scott will be speaking about the development of art radio in Louisville and its importance to the local and international community.



*********************


FUND FOR THE ARTS SHOWCASE
LIVE from The Brown Theatre
315 W. Broadway
Louisville, Kentucky
12 Noon

ARTxFM is proud to provide Coverage of the 2013 Fund for the Arts Showcase & Campaign Kickoff direct from the prestigious Brown Theatre. This one hour performance is an excellent sampling of local arts including performances from the Louisville Opera, Louisville Orchestra, Actors Theatre, Walden Theatre, the Louisville Ballet, and more. Native Kentuckian Ben Sollee will be performing on behalf of the Fund as well. Stream in or join us in person at the Brown Theatre at 315 W. Broadway at 12 noon on Tuesday January 29, 2013. The performance is complimentary and lunch will be provided!



*********************


THE "CALIGARI" PIANO CONCERT SERIES
LIVE from KMAC
715 W. Main Street
Louisville, Kentucky

Located on Museum Row in downtown Louisville, The Kentucky Museum of Art and Craft introduces a series of concerts performed on the Wendell Castle "Caligari" piano that is currently on view in the Wendell Castle: Forms within Forms exhibition. Sponsored in part by Gist Piano Center, and organized by KMAC Associate Curator Joey Yates, the concert series features local and national musicians playing on this unique instrument.

DANIEL KNOX
January 10, 2013
8 PM

RACHEL GRIMES
January 18, 2013
8 PM

DANE WATERS
January 27, 2013
3 PM




*********************


UNSILENT NIGHT
December 15, 2012
Dreamland Plaza. NuLu
6 PM

Unsilent Night is an original composition by Phil Kline, written specifically to be heard outdoors in the month of December. It takes the form of a street promenade in which the audience becomes the performer. Each participant gets one of four tracks of music in the form of a cassette, CD, or Mp3. Together all four tracks comprise Unsilent Night. The fact that the participants play different "parts" simultaneously helps create the special sound of the piece. Participants carry boomboxes, or anything that amplifies music, and simultaneously start playing the music. They then walk a carefully chosen route through their city's streets, creating a uniquemobile sound sculpture which is different from every listener's perspective.

INSTRUCTIONS & MORE INFORMATION AVAILABLE HERE



*********************



ARTxFM RADIO THEATRE WORKSHOP
Slant Culture Theatre Festival
Facilitators: Bart Galloway, Sharon Scott, Bobby Steurer, Bryan Varner
November 17, 2012
6 PM

No costumes, no scenery, no lines to memorize ~ welcome to Radio Theatre! Here, time is not a limitation and the only stage is in the mind. Using nothing more than sound, the practitioners of radio theatre can transport their audience to distant locations, unimaginable times. During this hands-on workshop, ARTxFM will introduce the concepts and techniques that inform contemporary radio theater. Attendees will learn the basics of sound effects and mobile recording providing them with the capacity to create theatre for potential radio broadcast.



**********************


FACES AT THE PALACE
Bodeco, The Ladybirds, and Junkyard Dogs.
Live Broadcast From the Louisville Palace
November 23, 2012 at 9 PM

As a part of the "Faces at the Palace" Concert Series, ARTxFM is proud to provide LIVE COVERAGE of Bodeo, The Ladybirds, and Junkyard Dogs direct from the Palace Theatre on Friday, November 23rd beginning at 9:00 PM.

Just in time for this historic event, ARTxFM will the launch our I-Phone and Android Apps to make Friday's party audible all over the world! Please join us in person @ THE PALACE on November 23rd where the Thanksgiving is sure to continue and all your Louisville family will be on hand! 10 bucks and 21+ only. If you cannot attend, we invite you to STREAM-IN through our website or new applications.


**********************

SQUALLIS PUPPETEERS PRESENT "BOO!"
October 26 - 27, 2012
700 Eastern Parkway
6 - 11 PM

Squallis Puppetters celebrates their 15th Anniversary with "BOO!" a Halloween Extravaganza on October 26 and 27th. ARTxFM will broadcast live from the event bringing Supertruck, Lady Pyramid, and Julie of the Wolves to international audiences. Coverage of the evenings Trick O' Treats and Puppet Funhouse will be provided as well.


*********************

ST. JAMES COURT ART SHOW
October 5 - 7, 2012
Old Louisville
10 AM - 7 PM

The St. James Court Art Show is one of the oldest, largest, and most impressive Art Fairs in the nation. Founded by local artists in 1957 as a way to save neighborhood landmarks, the show now accomodates 750 intenational artists and 300,000 guests each year. In 2012 ARTxFM was invited to broadcast live from the St. James Court Art Show Executive Offices to provide coverage of the event and the many artists and visitors it attracts.


*********************

IDEAFESTIVAL
September 19 - 21, 2012
Kentucky Center for the Performing Arts
8 AM - 12 Midnight

Founded in 2000, IdeaFestival is a celebration for the intellectually curious. It's an eclectic network of global thinkers and one-of-a-kind innovators bound together by an intense curiosity about what is impacting and shaping the future of the arts, business, technology, design, science, philosophy and education.

ARTxFM made its broadcasting debut from the floor of the Kentucky Center for the Performing Arts during the 2012 IdeaFestival. In addition to providing live coverage of the conference, ARTxFM and collected an impressive archive of interviews with the many impressive speakers and guests in attendance.


*********************











ART+FM



ARCHIVES