LISTEN

PARTICIPATE

DONATE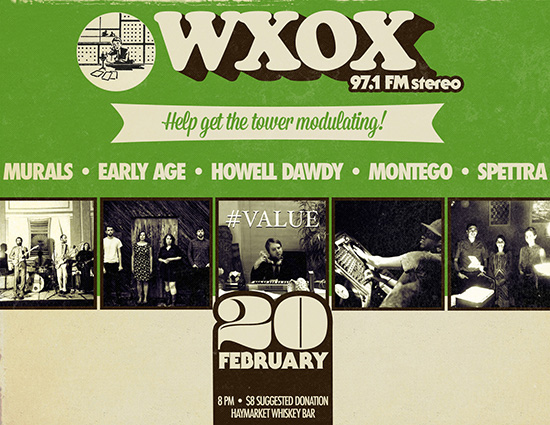 Frequency Modulator
Friday, February 20, 2014
The Haymarket @ 8 PM
$8 Suggested Donation


Join us Friday, February 20th for an awesome night to not only delight the senses, but raise money for a good cause. Last fall, artxfm.com was granted their license to broadcast over the air! Now that the organization has the go-ahead to beam into your stereo, it's time to raise the tower and get it modulating! All proceeds go to help build it! For a suggested donation of $8, here's what you can expect...

In the music hall, a fine and eclectic assortment of Louisville faire.

EARLY AGE - Killer new project featuring members of Young Widows, Second Story Man, Sandpaper Dolls, Mountain Asleep and more.

MURALS - Easy breezy beautiful psychedelic folk and pop that'll have the winter blues running scared.

HOWELL DAWDY - A true professional.

MONTEGO - Left-field instrumental hip-hop.

And during the performances, visual art troupe SPETTRA will create live and illuminating visuals.

In the front bar, a rotating cast of DJs will spin vinyl all over the sonic map, a free photo booth, and of course, informational tables about ArtFM and its leap to the FM dial.


*********************





Narrow Ellipses II
Feb. 7, 2015
Kaiju
1004 E. Oak Street
8 PM

This second performance by the experimental ensemble Narrow Ellipses will feature manipulated films from the 1940s by avant-garde innovator Maya Deren.

Also performing will be Flanger Magazine and Opposable Thumbs

Players within Narrow Ellipses will include: Shutaro Noguchi, Cher Von, Ben Traughber (Dream Eye Color Wheel), Scott Scarboro, Yoko Molotov (Sweatermeat), Aaron L. Rosenblum (Sapat), Douglas Lucas (O O O), Rachel Short, JohnBen Lacy (Bookshelf), Ben Lally (New Bravado), Brian Manley, Chris Martin (Dream Eye Color Wheel), Jim Marlowe (TROPICAL TRASH), Tyler Chanley, Norman Minogue, Kirk Mattingly, and potentially some surprise guests

The show will take place at Kaiju, 1004 E Oak St. on Sat Feb 7, 8pm. It will cost your pockets five dollars. As with the last Narrow Ellipses performance, a portion of the proceeds will go to benefit the raising of the broadcast tower for A R T x F M WXOX www.artxfm.com. Brought to you by the radio shows Night Train Cocktail Lounge and Indeterminate Transmissions / The Medium Is Sound on ART+FM.



*********************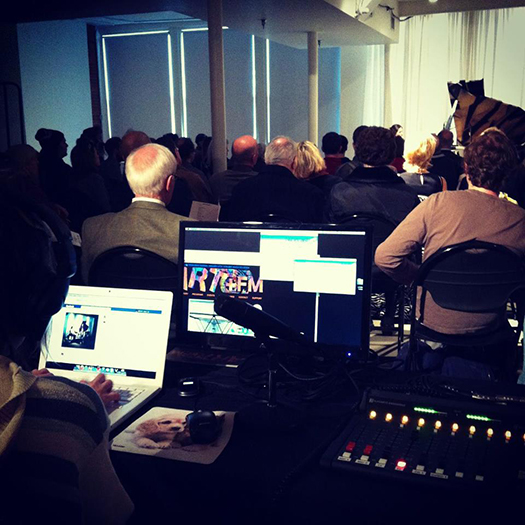 ARTxFM is a community run, arts-focused radio station. We are based in Louisville, Kentucky but our signal reaches the entire world. Our stream is live 24 hours a day, 7 days a week. You can tune in through the play button in the upper left-hand corner of our website or by downloading our free mobil apps for android or Iphone which can be found by searching "ARTxFM" in the app stores.

Our programming is 100% local and we have shows that range from classical to punk rock from hip hop to country. The schedule is diverse as the volunteer DJs who bring it to life. Please check our Program Guide and Schedule to discover the wealth of interesting material offered here on ARTxFM. In addition to great daily programming, ARTxFM also provides live coverage of the regions most interesting mucial performances and creative events.


******************************************************************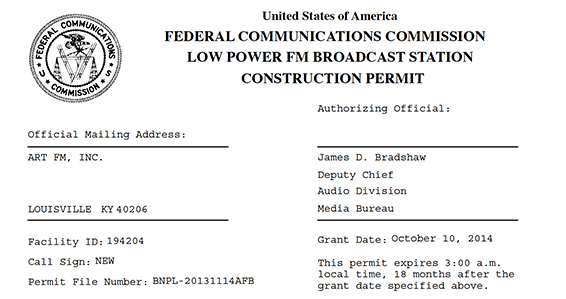 On October 10, 2014 the Federal Communications Commission awarded a Construction Permit to ART FM, Inc. for the development of a new broadcast station. Our assigned frequency is 97.1 FM, our new call letters are WXOX and we will soon be audible over the air in Louisville, Kentucky U.S.A.

As we move toward the FM dial, expect the same great ARTxFM programming now enjoyed online to continue uninterrupted. We are so proud of all of our DJs and have great confidence in each of their unique shows. While we have been impatient for the grant of our FM Permit, we are thankful that the past two years of online broadcasting have provided us with the tools and experience necessary to bring our station confidently into the Big Time.

The attainment of an FM broadcast license is the result of many years of hard work from ARTxFM Staff and Board of Directors. We congratulate them all. It also could not have happened without the help of REC Networks, Common Frequency, and the Prometheus Radio Project - all of whom worked to pass the Local Community Radio Act of 2009 which made this opportunity possible and provided constant support throughout the application process.

ARTxFM would not be possible without our supporters. We are so thankful to everyone who has believed in us throughout this journey and brought us to this historical moment. Thank you and Congratulations. 97.1 FM Louisville. This great accomplishment is yours.


*****************************************************************

ARTxFM MEMBERSHIP

BECOME A FOUNDING MEMBER OF ARTxFM TODAY!!
The ARTxFM broadcast is made possible by the generosity of its listeners. Gifts of any amount are welcome. Individuals who pledge $97.10 or more to our nonprofit organization prior to the launch of the FM transmission will receive FOUNDING MEMBER designation for the extent membership is maintained. Founding Members receive a limited edition lapel pin and will be invited to add their signature to the studio wall.

FREQUENCY CLUB
Members who make their contributions via monthly automatic withdraw will receive an additional Frequency Club pin and monthly on-air recognition.




***********************************************************************

To become a member donate via Pay Pal or by sending a check to

ARTxFM
P.O. Box 5103
Louisville, Kentucky 40205

For more information on membership send an email e-mail to donate@artxfm.com and a member of our staff will contact you shortly.


We hope you will join the staff and supporters of ARTxFM and become a Founding Member of ARTxFM today!!!!


*********************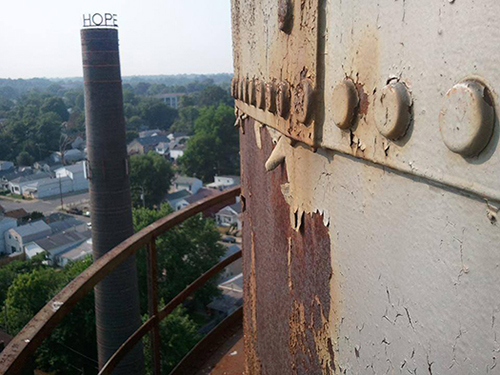 Hope Mills - proposed site of the ARTxFM transmitter. Photo by Aron Conaway




******************************************************************



ARTxFM ON KENTUCKY EDUCATIONAL TV




Stay tuned to ARTxFM for all the latest updates and station happenings. The creative format at ARTxFM facilitates diverse programming that is unlike any station in the world. The DJs are the aritsts, each sculpting their airtime in their own creative way. The result is a station that is reinventing itself every few hours. ARTxFM is a great community project that celebrates the diversity of the human mind and the possibilities of the creative spirit. ARTxFM is a not-for-profit radio station that depends on the contributions of its listeners.












ART+FM



ARCHIVES