LISTEN

PARTICIPATE

DONATE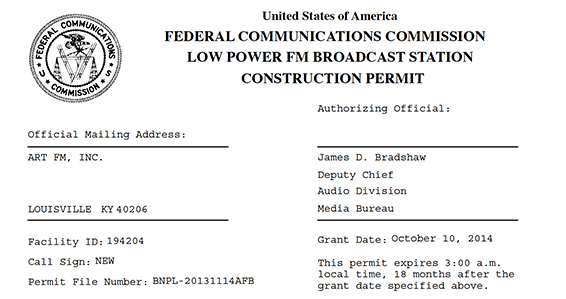 On October 10, 2014 the Federal Communications Commission awarded a Construction Permit to ART FM, Inc. for the development of a new broadcast station. Our assigned frequency is 97.1 FM, our new call letters are WXOX and we will soon be audible over the air in Louisville, Kentucky U.S.A.

As we move toward the FM dial, expect the same great ARTxFM programming now enjoyed online to continue uninterrupted. We are so proud of all of our DJs and have great confidence in each of their unique shows. While we have been impatient for the grant of our FM Permit, we are thankful that the past two years of online broadcasting have provided us with the tools and experience necessary to bring our station confidently into the Big Time.

The attainment of an FM broadcast license is the result of many years of hard work from ARTxFM Staff and Board of Directors. We congratulate them all. It also could not have happened without the help of REC Networks, Common Frequency, and the Prometheus Radio Project - all of whom worked to pass the Local Community Radio Act of 2009 which made this opportunity possible and provided constant support throughout the application process.

ARTxFM would not be possible without our supporters. We are so thankful to everyone who has believed in us throughout this journey and brought us to this historical moment. Thank you and Congratulations. 97.1 FM Louisville. This great accomplishment is yours.

BECOME A MEMBER OF ARTxFM TODAY!!!









GARVIN GATE BLUES FESTIVAL
Garvin Place and Oak Street
Old Louisville
Friday, October 10th: 6 - 11 PM
Saturday, October 11th: 2 - 11 PM

ARTxFM will be broadcasting LIVE from the 2014 Garvin Gate Blues Festival. Garvin Gate is the largest free neighborhood street music festival in Louisville. It takes place the second full weekend in October in historic Old Louisville, one mile south of downtown. The festival attracts some of the best blues acts in the nation and always draws a very diverse crowd. This year's line-up includes Big Poppa Stample, Zakk Knight, daMudcats, The Stella Vees, Lamont Gillespie, Ten Foot Polecasts, and more! For the first time ever, ARTxFM is proud to bring the music of the Garvin Gate Blues Festival to listeners all around the world!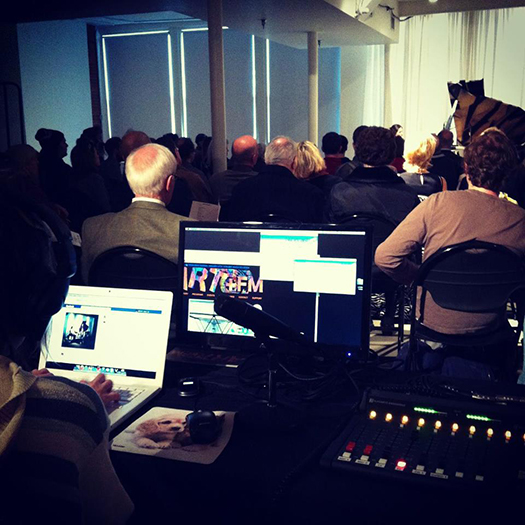 ARTxFM is a community run, arts-focused radio station. We are based in Louisville, Kentucky but our signal reaches the entire world. Our stream is live 24 hours a day, 7 days a week. You can tune in through the play button in the upper left-hand corner of our website or by downloading our free mobil apps for android or Iphone which can be found by searching "ARTxFM" in the app stores.

Our programming is 100% local and we have shows that range from classical to punk rock from hip hop to country. The schedule is diverse as the volunteer DJs who bring it to life. Please check our Program Guide and Schedule to discover the wealth of interesting material offered here on ARTxFM. In addition to great daily programming, ARTxFM also provides live coverage of the regions most interesting mucial performances and creative events.


******************************************************************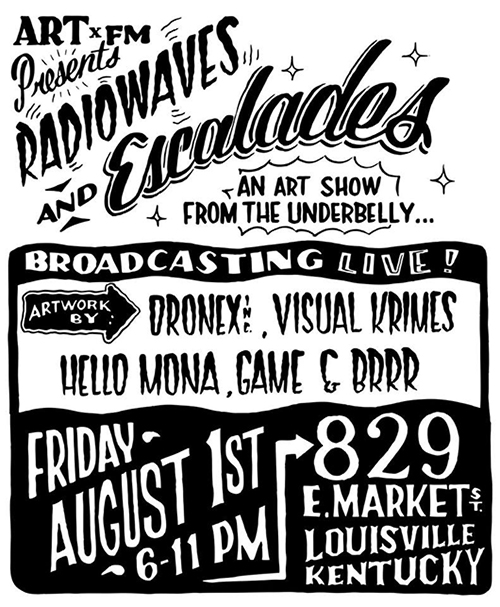 RADIOWAVES AND ESCALADES: AN ART SHOW FROM THE UNDERBELLY
ARTxFM Studio
829 E. Market Street
Louisville, Kentucky
August 1 - October 3, 2014
Open Daily
9am - 7pm
ARTxFM presents RADIOWAVES AND ESCALADES: AN ART SHOW FROM THE UNDERBELLY featuring the work of Brrr, Game, Hello Mona, Visual Krimes, and Dronex Inc.. Please join us for an artist reception at the ARTxFM Studio on August 1, 2014 during the First Friday Trolley Hop from 6 - 11 PM. ARTxFM DJs & Special Guests will be broadcasting live from the event. The exhibition runs through September 6, 2014 and the ARTxFM studio is open to the public daily from 9 AM to 7 PM. Other times and studio tours available upon request.



******************************************************************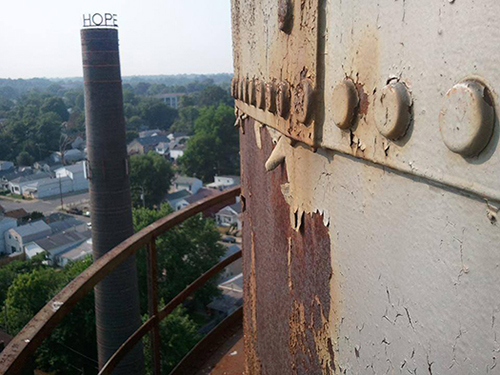 Hope Mills - proposed site of the ARTxFM transmitter. Photo by Aron Conaway

ARTxFM is a community-based, arts-focused radio station with a devoted team of managers and radio personalities who volunteer their time to make our broadcast possible. We have had much growth over the past year and our stream now reaches thousands of listeners locally and around the world.  We have given voice to the artists, Olympians, and activists in our community and we have opened the airwaves to creative experimentation and international collaboration.  We are dedicated to our community and are planning to be on the FM dial within the coming year.


In November 2013, ARTxFM applied for an Low Power FM licencse. We are waiting on approval from the Federal Communications Commission to begin broadcasting on 97.1 FM in Louisville. While we are thrilled with the development of online broadcasting through which we can reach the entire well-webbed world, we are very much looking forward to a terrestrial broadcast through which we can extend the reach of our daily programming within our own community.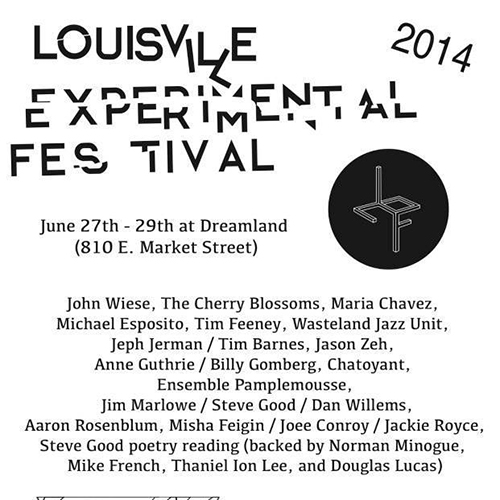 Louisville Experimental Festival
Dreamland
810 E. Market Street
Louisville, Kentucky
Saturday, June 14, 2014
7 PM - ?


Louisville Experimental Festival is an annual experimental music event in Louisville, Kentucky that presents a wide range of artists within experimental, improvisational, noise and related genres. ARTxFM will broadcast the following artists live from the 3-Day festival on Saturday, June 14th beginning at 7 PM.

John Wiese

Jeph Jerman / Tim Barnes

Billy Gomberg / Anne Guthrie

Wasteland Jazz Unit

Steve Good poetry reading
backed by Norman Minogue, Mike French, Thaniel Ion Lee, and Douglas Lucas

Learn more at www.louisvilleexperimentalfestival.com


******************************************************************






1st Annual ARTxFM Record Fair
Dreamland
810 E. Market Street
Louisville, Kentucky
Saturday, June 14, 2014
11 am - 4 pm

Come on down to dig-dig-dig for Records,Tapes & CDs, and SUPPORT your new favorite radio station ARTxFM! Record Vendors from all over the region will be there. Private collections unearthed for the first time!

$5 entry fee 11 am - 4 pm
$10 early bird entry fee 10 am - 11 am
All entry fees support ARTxFM

• Raffle give-a-ways • Local food Trucks • Live music and more . . .


******************************************************************


Join us at the ARTxFM SpringFest Stage in Old Louisville on May 16th and 17th for a showcase of some of the best music Louisville has to offer. This year's line-up includes a variety of genres including Jazz, Blues, Bluegrass, Rock-n-Roll, Latin Dance, Afrobeat, and more. In short, everyone will be dancing!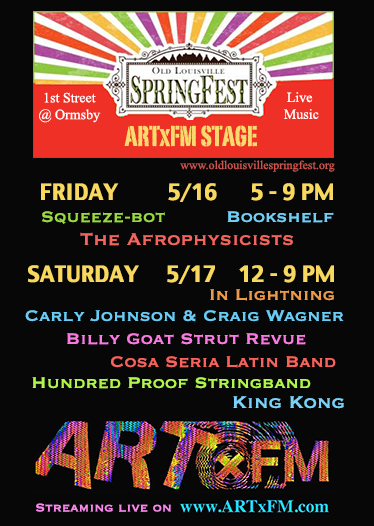 The Old Louisville Springfest is a FREE neighborhood event that will include over 100 artist booths, a kid's zone, and a beer garden. The festival takes place on the 1200 block of 1st Street near Ormsby.

ARTxFM will broadcast live music direct from the SpringFest Stage on Friday, May 16th from 5 - 9 PM and on Saturday, May 17th from 12 - 9 PM. It should be a lovely weekend and we are looking forward to seeing you there!

2014 ARTxFM SPRINGFEST STAGE SCHEDULE

FRIDAY, MAY 16
5:00 Squeeze-bot
6:00 Bookshelf
7:30 The Afrophysicists

SATURDAY, MAY 17
12:00 In Lightning
1:30 Carly Johnson & Craig Wagner
3:00 Billy Goat Strut Revue
4:30 Cosa Seria Latin Band
6:00 Hundred Proof Stringband
7:30 King Kong


ARTxFM extends special thanks the Old Louisville Neighborhood Council and Councilman David James for making SpringFest 2014 possible. The Magnolia Bar is a proud sponsor of the King Kong performance and the Garvin Gate Neighborhood Council proudly sponsors Saturday's performance of Carly Johnson & Craig Wagner.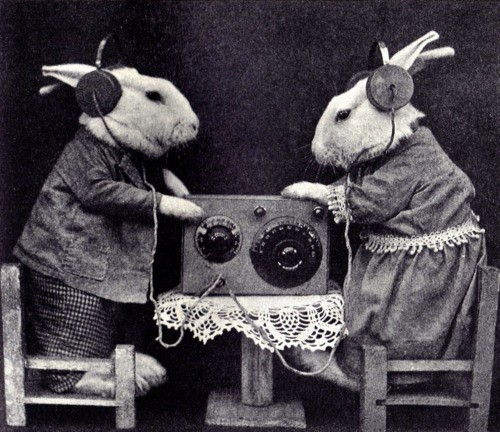 IT'S DERBYTIME!!! and ARTxFM is wild with activity. From a live broadcast of SLINT at Nelligan Hall, to an in-studio performance from musician DAVID GRUBBS , and onto an Easter radio special with host WILL OLDHAM, ARTxFM is enjoying a Spring broadcasting adventure that is uniquely Louisville. It has been our privilidge to showcase the brilliant artists that have emerged from our city and shaped the sound of music forever.


SLINT @ Nelligan Hall : LIVE on ARTxFM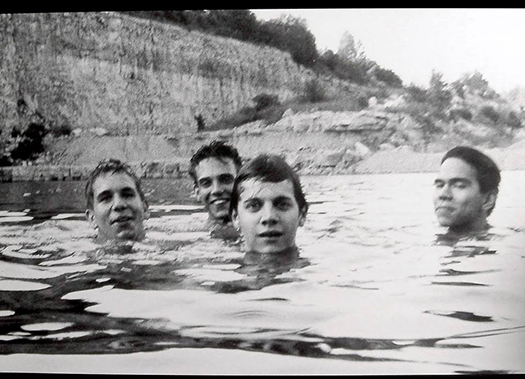 4.15.14 8 PM EDT

SLINT returns to Louisville on Tuesday, April 15, 2014 for a special performance at Nelligan Hall to celebrate the re-release of their seminal album Spiderland. While the intimate venue holds less than 200 people, ARTxFM has a special access pass that will allow this performance to be heard around the entire world.

The evening begins with an opening performance from Wishgift at 8 PM Eastern Daylight Time (U.S.). The stream is accessible through our website www.artxfm.com and free "ARTxFM" mobil apps. Fans are advised to stream in early as there is limited number of listener slots.

The line-up includes original members of SLINT - Britt Walford, Brian McMahan, and David Pajo - joined by musicians Christian Tonegawa and Matt Jencik. The performance is certain to be outstanding. No matter where you are in the world on Tuesday, April 15, you are invited to join ARTxFM direct from Nelligan Hall as Louisville bids SLINT a heroes' welcome home.


For Further Reading:

SLINT - official website

SLINT - Cover Story - LEO WEEKLY

Slint's Spiderland Gets Deluxe Box Set Reissue - Pitchfork



******************************************************************



ARTxFM ON KENTUCKY EDUCATIONAL TV




Stay tuned to ARTxFM for all the latest updates and station happenings. The creative format at ARTxFM facilitates diverse programming that is unlike any station in the world. The DJs are the aritsts, each sculpting their airtime in their own creative way. The result is a station that is reinventing itself every few hours. ARTxFM is a great community project that celebrates the diversity of the human mind and the possibilities of the creative spirit. ARTxFM is a not-for-profit radio station that depends on the contributions of its listeners.

We hope you will join the staff and supporters of ARTxFM and become a Founding Member of ARTxFM today!!!!


*****************************************************************

ARTxFM MEMBERSHIPS NOW AVAILABLE !!!

*****************************************************************

2014 ARTxFM MEMBERSHIP
ARTxFM is a Kentucky Not-For-Profit Organization. All ARTxFM members receive a T-shirt, bumper sticker, and collectible button as well as a monthly e-newsletter and complimentary admission to member events. They will also receive online and on-air recognition.

Individuals who join ARTxFM prior to the launch of the FM transmission will receive FOUNDING MEMBER designation forthe extent membership is maintained. Founding Members will receive a limited edition lapel pin and be invited to add their signature to the studio wall.

ARTxFM MEMBER PREMIUMS

$40 T-shirt
$100 Hoodie
$250 Artist Edition Print
$500 Golden Record Pendant
$1000 Gold Commemorative Record
$3000 Platinum Commemorative Record




FREQUENCY CLUB
Members who make their contributions via monthly automatic withdraw will receive a collectible Frequency Club lapel pin and monthly on-air recognition.

TOWER BUILDERS
Donors who give $1000 or more during the FM construction period will be honored with a collectible lapel pin. Their names will be included on the bronze Tower Builders plaque which will be unveiled at the FM launch ceremony.



***********************************************************************

To become a member donate via Pay Pal or by sending a check to

ARTxFM
P.O. Box 5103
Louisville, Kentucky 40205

For more information on membership send an email e-mail to donate@artxfm.com and a member of our staff will contact you shortly.


We hope you will join the staff and supporters of ARTxFM and become a Founding Member of ARTxFM today!!!!


*********************







ART+FM



ARCHIVES