A nonprofit organization dedicated to cultivating educational opportunities and live media experiences for artists and members of the local community, ARTxFM employs sound, music, and conversation to amplify the local art scene and broadcast the international arts dialogue. Unique to Louisville and distinct in the world, ARTxFM combines contemporary art practices with online broadcasting to create a meeting place of sounds and ideas accessible to all those who wish to participate.



At ARTxFM the definition of artist is broad. It includes painters, performers, educators, philosophers, scientists, and more -- the trained and untrained, the local and the superstar. ART FM functions with the belief that the greatest forms of art, like the greatest forms of democracy, flourish within the free and unfettered exchange of ideas.

ARTxFM currently broadcasts live on 97.1 FM. We also stream live, local programming 24 hours a day, 7 days a week through the website artxfm.com and free "ARTxFM" mobile apps. The daily schedule includes music, talk, and experimental programming. The station provides dedicated airtime for local and international artists interested in exploring new possibilities in broadcasting.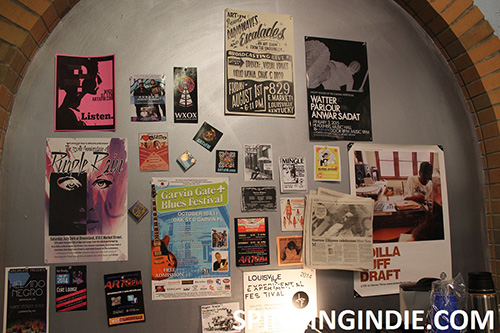 Photograph by Jennifer Waits of Radio Survivor


ARTxFM takes a new approach to an established medium. Nikola Tesla first demonstrated radio transmission in 1892. Encouraged by the intrinsic usefulness of the medium, news, music, and religious programming quickly dominated the broadcast dial and still holds it tight. Since the invention of radio, over a century ago, artists and intellectuals have had little access to the American airwaves.

Futurists in Italy, Dada artists in Switzerland, and Antonin Artaud in France all conducted experiments in the art of radio broadcasting. Financial and social constraints, however, prohibited them from fully liberating radio from its more "useful" informational and commercial transmission purposes. Now, well into the 21st century, the Internet has become an adequate provider of music, news, and religious programming, radio may finally find some space for self-reflection and artistic growth.

ARTxFM recognizes and amplifies the untapped creative potential of radio broadcasting. In 2011, ARTxFM was incorporated as a Kentucky not-for-profit radio station with an emphasis on broadcast arts and a commitment to experimental programming. ARTxFM is currently governed by a Board of esteemed community arts leaders who each bring unique skills, assets, and interests to this new and unprecedented project.


******************************************************************

ARTxFM began broadcasting at Idea Festival 2012 with an online signal that reaches around the world. The FM signal was added on Valentine's Day 2016 as WXOX 97.1 FM took to the Louisville airwaves. The attainment of an FM broadcast license is the result of many years of hard work from ARTxFM Staff and Board of Directors. We congratulate them all. It also could not have happened without the help of REC Networks, Common Frequency, and the Prometheus Radio Project - all of whom worked to pass the Local Community Radio Act of 2009 which made this opportunity possible and provided constant support throughout the application process.

ARTxFM would not be possible without our supporters. We are so thankful to everyone who has believed in us throughout this journey and helped our FM dreams come true! Thank you and Congratulations. 97.1 FM Louisville. This great accomplishment is yours.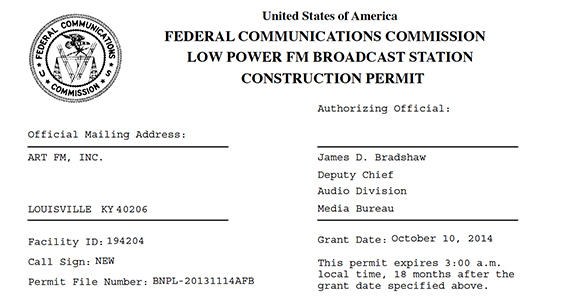 *****************************************************************